Get a Quote
Call us today 1.888.556.0777 and we'd be happy to give you a quote over the phone.
For an Online Quote:
In order for us to provide a quote for your service needs please choose the correct form below and complete in full. We will reply with your quote within one business day.
Pit Stop Portables can provide standard or premium portable toilet rentals, and septic services for construction sites, remote camps, agricultural facilities, industrial sites, equestrian centers, etc. We provide custom service schedules to our customers that meet their requirements. We are able to service as little as once per month or multiples daily. We can also provide services to remote areas where four wheel-drive service trucks are required.
Construction & Job Site Quote Request Form
Pit Stop Portables is the largest provider for Special Events in Western Canada. We offer rentals for premium portable toilets, executive washroom trailers and waste and recycling containers. We are widely recognized in the BC film industry, providing service for on location shoots: TV and movie productions, agricultural facilities, equestrian centers, and much more. Whether you're organizing a concert, special event, music festival, or building the tallest building yet, we've got you covered.
Recommended Units to # of People Chart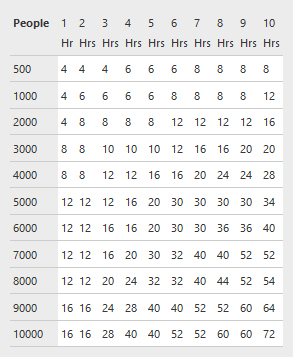 Frequently Asked Questions
Do you deliver on weekends? Can you provide same day delivery?
Weekend delivers are possible if booked in advance. Additional fees may apply. We pride ourselves in being able to service our customer's needs in an efficient manner. Same day week day deliveries are often not a problem if they are booked prior to 10 am that morning. Please discuss with one of our Customer Service or Sales Specialist when you call.
Can I rent a portable toilet for less than one month?
Yes, however we have a minimum rental fee of one month.
How often is my portable toilet serviced?
We can service as little as "on- call" which means you call in when you need and we schedule a service for the next available day or we can do once per month, twice per month, one time per week, two times per week and even daily servicing if you job site requires. Please feel free to discuss with our Customer Service and Sales Specialist at time or ordering.
Are there additional fees or charges on top of the rental?
Yes, we do have delivery and removal fee which would vary depending on the day of delivery and possibly location, the Province of Alberta has a small winterization fee (during winter months only) as well we have a minimal Fuel Surcharge (this amount changes and is reflected in the current price of fuel) (As fuel prices decrease so will our fuel surcharge) Please enquire with one of our Customer Service and Sales Specialist at time of ordering.
What additional products are available for rent?
Portable Toilets, Hand Wash Stations, Accessories & Waste Bins
Executive Washroom Trailers
Temporary Fence Rentals
Septic Services
Call Us Today: 1.888.556.0777